2021
ACRA Photo Contest 2021 – 20 Mar to 31 May 2021
To celebrate ACRA 60th Anniversary this year, a series of activities will be held and we are pleased to announce the ACRA Photo Contest 2021 with the theme of '清風留影', sponsored by Daikin Airconditioning (Hong Kong) Limited.

All members are welcome to participate, to capture/ record a photo of our air conditioning industry.

The submission period from now to 31 May 2021. There are 3 prizes for this contest.

Attached herewith is the event flyer with detailed information for your kind reference and participation. Thank you.
---
Next Generation Refrigerants Development Class (Webinar) - 8th Class, 19 March 2021 (Fri)
Co-organised with EMSD and VTC, ACRA is now organising the 8th seminar on 'Next Generation Refrigerants Development' in kinds of Webinar. Details of Training Course are as follows :

Details of Training Course are as follows :

Date : 19 March 2021 (Fri)
Time : 9:00am-1:00pm
Venue : In the form of Webinar by using own computer/ mobile device with Internet access (The specific link to access the Webinar by ZOOM will be sent to the confirmed applicants accordingly.)
Fee: $400 (for ACRA members & Co-organisers), $500 (for non-members)

A Certificate will be issued to the candidates who have successfully completed the course.
Program Highlight:
For protecting our ozone layer & climate, most of common refrigerants with high ozone depletion potential and global warming potential have been or are being phased out. Government, Developers, Consultants, and Contractors are loving to see new generation refrigerants coming to the market asap.

In this seminar, we will discuss various new refrigerants that may be used in industrial, commercial, and residential building. Participants can know more about the history & evolution, and the comparison of existing options with some new options including efficiency, flammability, changes to equipment, components and working procedures.

Recent incidents and accidents along with application trends will provide the back drop to discuss the refrigerant handling & risk management. Relative standards, regulations and legislations will be also discussed.

Please find attached application form and course content for your information.
---
Online Beer Competition <啤王啤后網上競飲大賽> - 12 Mar 2021
To celebrate the New Year, we are pleased to announce the online Beer Competition <啤王啤后網上競飲大賽> to be held on 12 Mar 2021 (Friday).
We wish you a Happy and Prosperous Chinese New Year!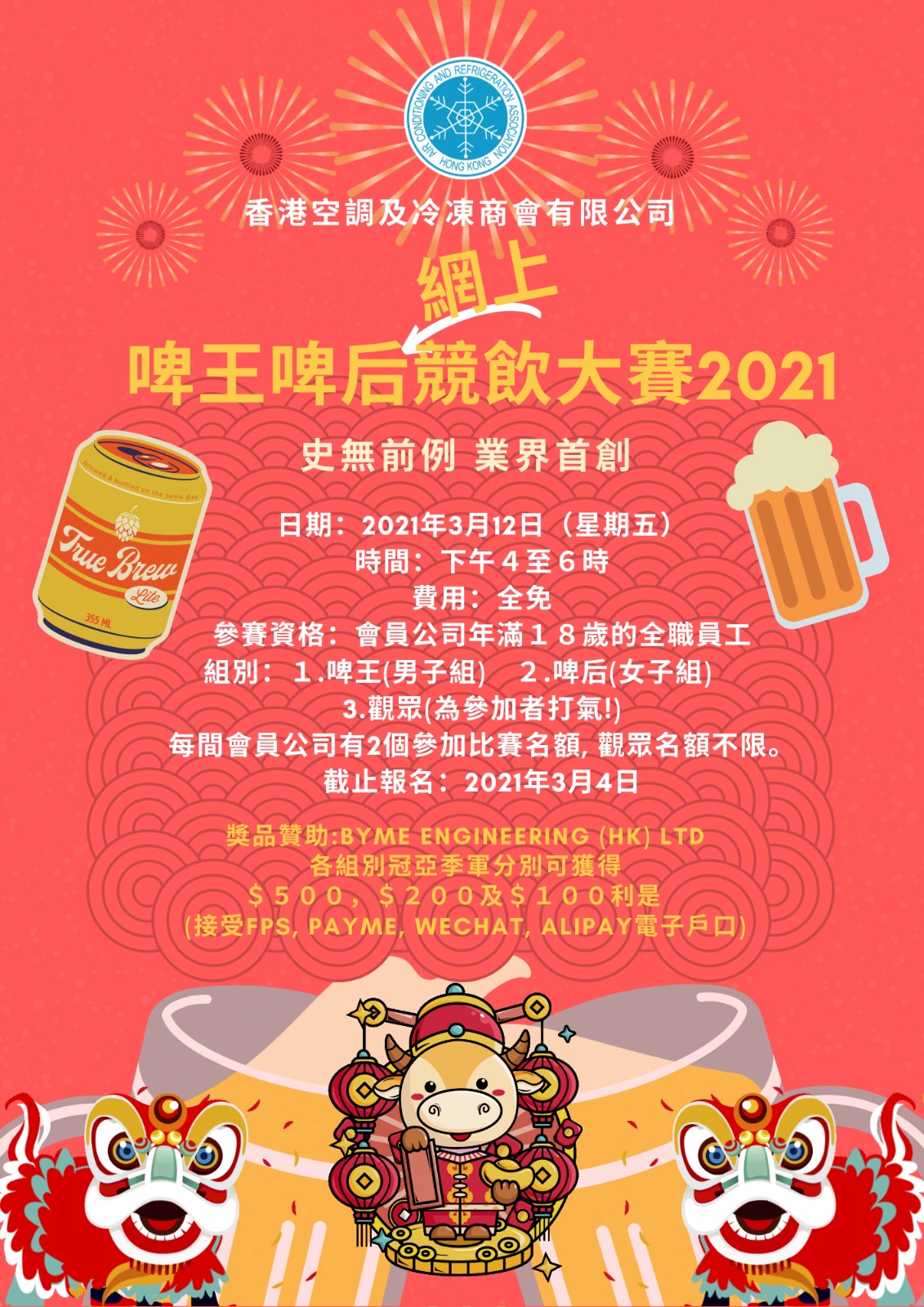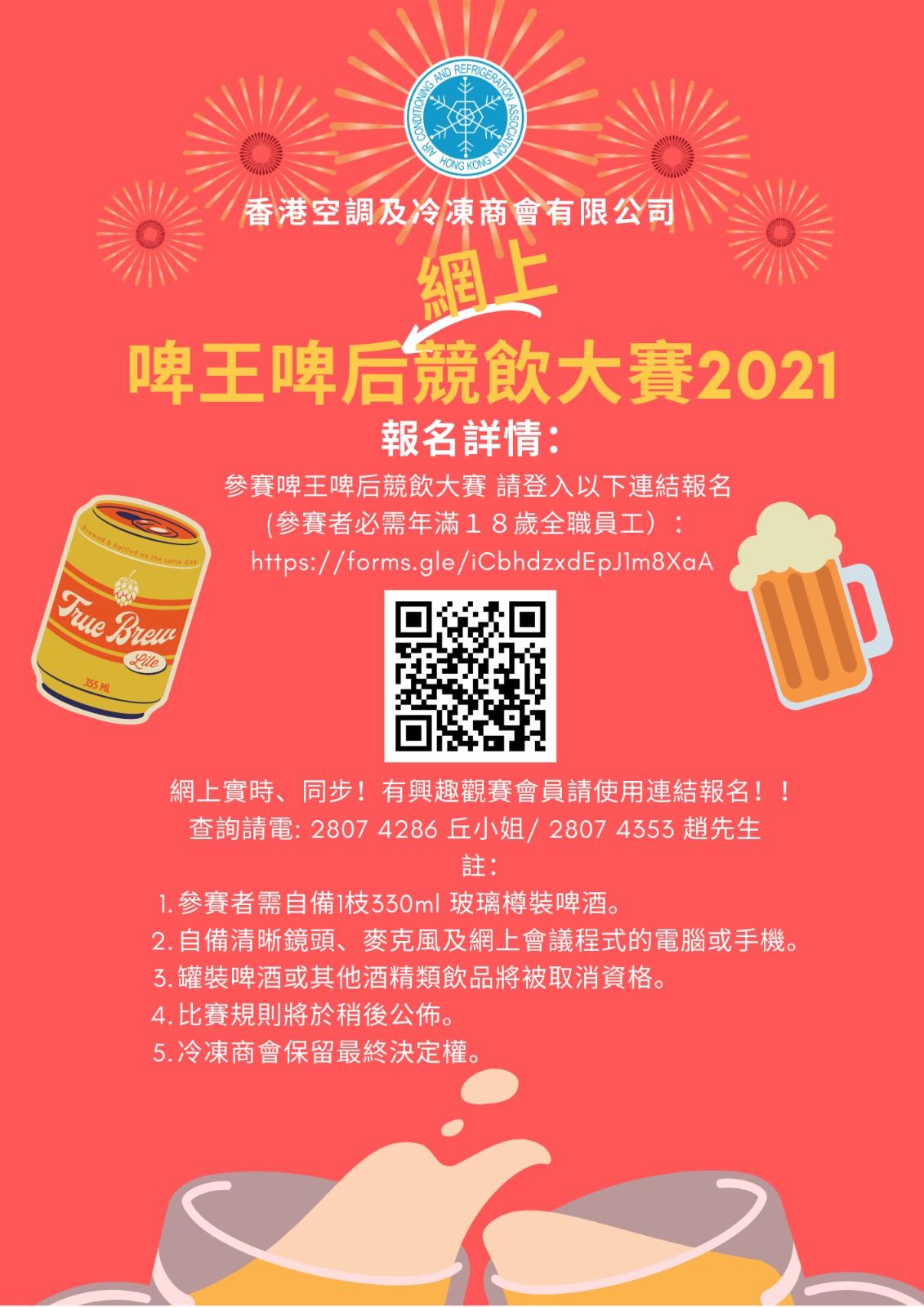 ---
Joint Caring Event – Happy Bags Delivery to Elderly - 6 February 2021
On 6 Feb 2021, ACRA, HKFEMC and Open Door Ministries (開心社區服務) jointly organized the Joint Caring Event - Happy Bags Delivery to Elderly (關懷社區行動 - 開心福袋贈長者) to show affectionate care for the solitary elders/ elderlies in need at Lam Tin Estate. With tremendous support from ACRA & HKFEMC members, we distributed a total of 100 bags of Happy bags with rice & epidemic prevention materials to approx.. 100 elders in the estate. The Chairman of ACRA Caring Committee, Mr. Raymond Synn together with ACRA President - Mr. Franklin Lau, ACRA Chairman – Mr. MT Law & FEMC President – Mr. Rocky Poon sent their special regards to the Open Door Ministries and the participated companies and volunteers to show their wholehearted care for the senior citizens in our society.

Sincere thanks to the following members for the great support to this event:
| | | |
| --- | --- | --- |
| ATAL Engineering Limited | | Alliance Contracting Co., Ltd. |
| Bun Kee (International) Ltd. | | CDBM Engineering Consultant Co.Ltd |
| C.J. Wishing International Limited | | Eaxon International Co., Ltd. |
| Fook Loong (HK) Ltd. | | Galaxy Engineering Holding Co., Ltd. |
| GELEC (HK) Ltd. | | Golden Leaf International (Hong Kong) Limited |
| Hilti (HK) Limited | | IES Engineering (Hong Kong) Limited |
| Krueger Engineering (Asia) Limited | | Luen Ming E&M Engineering Ltd. |
| McQuay Air-Conditioning Ltd. | | Mesan Fiberglass Engineering (Int'l) Ltd |
| Netsphere Solution Ltd | | REC Engineering Company Limited |
| Ritech Engineering & Supply Co., Ltd. | | Ryowo (Holding) Ltd. |
| Southa Technical Limited | | The Jardine Engineering Corporation Ltd |
| Token Engineering Limited | | Welcome Air-Tech Ltd. |
| White Hippo Limited | | Wo Lee Steel Company |
| Zenith International Enterprise Ltd. | | |
---